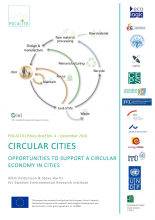 In the POCACITO project, cities around Europe have created a 'post-carbon 2050' vision in which cities have moved towards greater sustainability owing to various environmental measures. However, the results from the project also show that the increase in gross domestic product (GDP) and the rise in consumption that goes with it, along with a reduction in direct emissions at a local level, are in most cases outweighed by a larger, indirect environmental footprint occurring outside the city boundaries.
To address this consumption issue, a transition towards a circular economy is one possibility. A circular economy has the potential not only to reduce the indirect footprint, and thereby total emissions, but also to boost local productivity and create new green jobs.
To support cities in their transition towards a circular economy this policy brief highlights several examples of circular initiatives, including reuse malls, recycling parks, clothing libraries and foodbanks.
A circular economy can sometimes seem hard to achieve but one should not forget the old-fashioned circular business models that already exist, like flea markets, clothing collection services and laundry rooms. With the new technologies of today a circular economy is not far away.
This policy brief was prepared and written by Albin Pettersson & Steve Harris, IVL Swedish Environmental Research Institute.