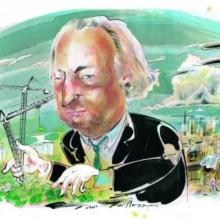 Vice-President of Chalmers University of Technology, Director of Mistra Urban Futures
Dr. Lars Reuterswärd is currently Vice-President of Chalmers University of Technology, Director of Mistra Urban Futures. A Swedish national, Dr. Reuterswärd was United Nations' Designer, Coordinator and Pavilion Director for the UN Exhibition and Events at the Shanghai World Expo 2010. 
Dr. Reuterswärd was Director of Global Division, UN-HABITAT 2003 to 2009, where he developed its current focus on Sustainable Urban Development, which includes the Cities in Climate Change Initiative, the Habitat Partner Universities Initiative, Training and Capacity Building, Safer Cities, the Global Land Tool Network (GLTN), Disaster Prevention and Re-construction, and Housing Policy.
Dr. Reuterswärd was the Overall Coordinator of the World Urban Forum 2004 in Barcelona, in Vancouver 2006, and Substantive Coordinator in Nanjing, 2008, and a member of the Swedish National Delegation for Sustainable Cities, Ministry of the Environment, 2009 - 12.
Dr. Reuterswärd earned a Ph.D. in Architecture from Lund University in 1984, and is there Professor of Architecture since 1986 (on leave). In 1979 Dr. Reuterswärd founded the Lund Committee on Habitat Studies. In 1977-82 he was Research Officer at SAREC/Sida, Stockholm. In 1977 and 1978 he served as Construction Co-coordinator (Vietnam) for UNICEF and 1974-75 as Construction Adviser in North Vietnam for the International Red Cross for an Emergency Housing Program. Other works include Sida Vinh Phu Housing Area, Vietnam, the World Bank Gilgel Gibe Resettlement Project, Ethiopia, and noteworthy architectural competition entries.
He is Lifetime Member of the Swedish Royal Physiographic Society, founded in 1772, Guest Professor at Tongji University, Shanghai, author of dozens of publications and has tutored several dissertations.